Well, obviously I'm playing some catch up here as our trip to India was around seven months ago! Anyways, better late than never right? Here's the story! When Anuj and Yana invited us to their wedding Matthew and I had to check with them a couple times to make sure they were serious. Were we seriously invited to their wedding? Were we serious about attending? Yes and yes. We quickly booked our time off work, booked our flights and crossed our fingers that Matthew would have his passport in time.
This was Matthew's first trip outside of North America! I mean why not jump into things right? I like his style and life's an adventure after all right? I will say, I was a little nervous about how this trip would affect his approach to travel moving forward. Would it be too much? Would I ever be able to get him on a plane again? Well, it was a success!
Our adventure started with a 17.5-hour itinerary on route to Delhi. The travel itself went pretty smoothly. We spent our Friday night with dinner and drinks at the airport as we waited for our plane to board with an hour delay around 9 pm. This meant we landed in Frankfurt a bit later than planned but with enough time to make our transfer to Delhi. By the time we landed and we factored in the 10.5 hour time change it was Sunday morning around 2 am. Thankfully I had connected with our hotel and requested a driver pick us up. We checked in to our hotel (The Park) and crashed for a couple hours before waking up in time to grab some breakfast buffet.
Our room was overlooking Jantar Mantar, so we thought, let's try and cross the road to explore. The complex had a bunch of different astronomy instruments that were used to tell time, track the sun and moons and the astrological signs. A man who may or may not have been affiliated with the park showed us around the park and told us about the different buildings. He kept telling us how it wasn't abracadabra but real science 🙂
We then decided to book a car (with driver) for the afternoon to explore what we could. We started with a visit to Safdarjung's Tomb. What an entrance! We walked through the gate and saw this picture of symmetry. The tomb was built in 1754 for Safdarjung, prime minister during the Mughal Empire. It felt like we had the grounds to ourselves and I was really starting to question the "there are so many people" comments I was hearing leading up to the trip.
Before heading inside we'll not soon forget. A little boy came up to Matthew and asked for some money, he must have been no more than 5 year's old. Matthew gave him something like 10 rupees (roughly 20 cents CAD) and his face just lit up with such happiness. Without diving into it too much here, we had a lot of conversations throughout the trip about poverty both in India and at home. We talked about the silly things we complain about daily back home and materialism. This one little moment really stood out to us and I think it's worth noting for my own memories.
From Safdarjung we made our way to the Qutab complex which is where we started to get a taste of how busy some places could be. This was also our first time having folks ask to take their picture with us. We quickly learned that this meant we'd be taking pictures for a good five minutes as everyone rotated into frame, making sure everyone got a picture with their own phone. People just kept swapping in and out we realized that we'd have to be the ones to end it so we politely excused ourselves so we could explore. It was a strange feeling and we were a little too polite to just say no. The complex was quite large with a lot of different areas to check out. The Qutab Minar (the large tower below) was built in 1193 and stands 73 m. Impressive!
It was getting quite late in the day at this point but we wanted to make sure that we saw the Lotus Temple. I had read about this temple online and really wanted to take it in with my own eyes. The temple is a Bahá'í Faith temple that is open to all religions. As a side note, the Bahá'í Faith is really interesting and I should read up on it some more. (if anyone has information to share please leave a comment!) The line up to head inside was probably the longest line I've ever seen in my life… so with time running down on our car rental, we didn't have time to inside, instead, we walked around the grounds and ended up in a park behind the temple where we watched boys playing cricket.
After having spent a fair amount of time being driven around in Delhi traffic, we kept talking about how chaotic it was… but… somehow at the same time it all made perfect sense. There's a flow to how everyone moves, like water in a stream or a school of fish swimming in the ocean. Delhi drivers have got to be the best drivers in the world. There's no way I would be able to drive there, massive kudos to those who do.
After an exhausting day we had a great dinner at the hotel restaurant with some very spicy and delicious dishes and called it an early night as the jet-lag hit us.
Monday
With monuments and temples closed on Monday, we woke, grabbed breakfast and were ready to explore Connaught Place, a large shopping area. The moment we left our hotel I started to feel nervous. We had to cross the large roundabout and I just didn't know how we'd be able to do it with the stream of cars never ending! A friendly young man walked over to us and offered to help us cross and we thankfully accepted his help. We were planning on exploring a bazaar that Anuj had told us about but couldn't find the entrance, so of course we made our way over to Starbucks because Matthew is #basic and loves the bucks. 😉
When we left the Starbucks our "friendly helper" happened to spot us again. I say this sarcastically because this friendly helper was more likely there to scam us. Nothing terrible and even now I'm thinking really, it wasn't that bad. He took us to a fake tourism office where they tried to convince us to change our travel plans and book a trip through them. We said no, our time was limited and we had already organized our trips. I did a bit of reading about this after and it seems to be a common trick. So, if you're ever travelling in Delhi, be aware of the tourism offices and read up on how to spot the real ones. He then offered to bring us to some shops in a tuk-tuk. Oh naive us, right? But then again, they were tourist shops and it's all about the experience right? Plus we were able to enjoy some very tasty masala chai tea at the shops 🙂 We picked up a couple knick-knacks that we're quite happy with so all in good fun right? He told us he didn't want any money from us so he probably got a good kick-back from the store. I'm not sure, but I'm assuming. Who knows?!
After spending the day wandering and the afternoon by the pool we made our way out for a delicious dinner… at McDonalds! I was super keen to grab some veggie McD's! And boy oh boy was it amazing. Delicious!
We then walked down to visit India Gate at night. It was a bit of a busy place to be and I had my first real overwhelming "I'm stressing out" moment. As Matthew took pictures of the monument, a young girl started to try and sell me some bracelets as I refused she started to place the bracelets on my arm and when I'd take them off she'd put more back on. I then felt everyone turning and staring at me and it all started to close in. Even now thinking about it I can feel it. I hollered at Matthew and started to walk away from the crowd to get some air. As I walked away a man started to run after me yelling "Miss! Miss! My Baby! Miss!" I clearly didn't think he was talking to me but turned around and suddenly had a baby in my arms "Picture?!" The family started to take pictures with me for what felt like 5 minutes. It was pretty strange but holding a baby made that anxiety go away pretty quickly… even if it was a strange moment.
We walked through the market on the way back. If we wanted to take a look around and shop there was no way we would have been able to. Matthew was followed for a good 10 minutes with people trying to sell him stuff the entire time, even though he just kept repeating "No, no thank you. No, no thank you." His patience was astounding. By the time we made our way to the other side of the market the original price of the products he was being offered were cut down by a good 95%. It was pretty funny and he handled it really well.
Tuesday
We hired a car again for half the day and drove through Old Delhi on the way to visit the Red Fort. Old Delhi was very different from where we were staying, it was more of what I had seen in movies/tv. The Red Fort was the home to the Mughal emperor for close to 200 year's, built in 1648.
After taking our time walking around the grounds inside and we made our way back to the car and over to Jama Masjid Mosque. On the way, to Jama Masjid Mosque we drove within the old market streets, with lot's of people, old buildings, small narrow streets with wires and cables strung across.
When we arrived at the mosque, we walked inside, an older man decided to take it upon himself to give us a tour and walk us around, pointing out good spots for photos and even grabbing some shots of us along the way. He explained the mosque to us without any language at all, just using his actions and we understood nearly every moment.
As we left the Mosque along the small streets, it was the first time that I saw women travelling solo in Delhi. I believe they were making their way to the mosque for prayer. I had commented to Matthew earlier on "Where are the women?" It really stood out to me that men were absolutely everywhere but I rarely saw women and even more rarely, a solo woman. So as the rickshaws driving solo women drove by, I couldn't help but comment, quietly. "Women!"
We were then driven to a park where Gandi's memorial is located. The park was pristine and was another moment that made us think and reflect.
On the way back to the hotel we made a quick stop at the parliament grounds to take some snaps of the buildings. As we made our way to the building we were shuffled onto the grass and away from the road… we had no idea what was happening but when an armed guard tells you to move, you do. Turns out, someone important was making their way to the buildings. After the motorcade drove by we were free to make our up to the buildings and take a picture before heading back.
We relaxed a bit before heading out to grab dinner but ended up on another tuk-tuk being driven to the same tourist shop we had already visited. We told our driver we didn't want to go there and that he could just drive us around/home and we'd pay the same but he decided to take us down a little alleyway to look at one last shop before taking us back to the hotel before grabbing dinner and calling it an early night.
Wednesday
When we decided we were going to go to Delhi, I quickly typed into Google Maps "Taj Mahal" to see where exactly in the country it was located. Not too far was my answer, so on Wednesday morning we woke up bright and early for a 5 am pick up on route to the train station headed for Agra.
I booked a day trip tour with Amin Tours for us and I'm so glad I did! They took care our train tickets, transportation, lunch and guided us around the Taj Mahal, Agra Fort and Fatehpur Sikri also known as Ghost City. My knowledge of trains in India was limited to what I had seen depicted on Amazing Race so, not a complete portrayal. We had assigned seats and were served breakfast as we watched the sunrise while fields and small villages passed by.
I had a slight panic when we arrived at the train station and couldn't find our tour guide right away but Hilal found us and we quickly made our way over to visit the Taj Mahal. Um guys. We were so impressed. It really is an incredibly beautiful monument and the meaning behind it is so touching. The Mughal emperor at the time, Shah Jahan, built it as a tomb and in memory of his wife who died during childbirth and mourned her death until his last days. You could feel that love once we were on the grounds.
Our guide was fantastic. He shared the interesting history with us and giving us ample time to take photos, even playing paparazzi/photographer himself. We stayed at the Taj Mahal for a couple of hours, trying to really take it in before we left for lunch. After lunch we hopped in the car and made our way to Fatehpur Sikri, about an hour drive from Agra.
When we arrived at the Ghost City, our guide led us around, sharing how the emperor had built the palace after a promise to the elders in the community as they had blessed him, telling him that he would soon have a child. In return, the royal family built their palace in the town on top of a hill. Trouble set in however as the water supply dried up shortly after the complex was completed and they left quickly after.
The grounds were impressive. The emperor had built three different palaces for his three wives, each different in their architecture and design, connecting back to their separate religions.
We made our way back to Agra, stopping at Agra Fort which was similar to the Red Fort but more grand. One of my favourite stories that the guide told us was about how the emperor who built the Taj Mahal had plans to build a replica, black marble tomb across the river mirroring the Taj. Well, his son was now the emperor and wouldn't allow it as the Taj Mahal had already cost so much money. His son put him under house arrest in Agra Fort! His room, however, was situated overlooking the Taj where it's said that he spent every day staring at it, crying so much that he began to lose his eyesight. His son then brought in a large diamond to act as a magnifying glass so his father could continue to stare at the Taj. What story.
We stopped by Amin Tours office to meet Amin, the owner and pay for the trip. Thankfully, he let us know that our train had been delayed by approximately two hours. As our driver from the day was heading to Delhi for a tour the next day, he offered us to drive back with him en route to our hotel. Honestly, if you're visiting the area and looking for a tour you need to check out Amin Tours.
Thursday
We were pretty pooped on Thursday after our long and eventful day in Agra but we got up and hired a car for a couple last sights. We made our way over to the Akshardham a "Hindu house of worship and a spiritual and cultural campus dedicated to devotion, learning and harmony." We were astonished by this building, the carved sandstone and marble, the gardens and beautiful details throughout. We spent close to three hours walking the grounds without taking a single photo! We weren't allowed to. No cameras, phones or electronics were allowed into the grounds. I think because of this, we really tried to take it in and make as many mental pictures as we could. I did find a couple images from the Akshardham website because it's really worth seeing: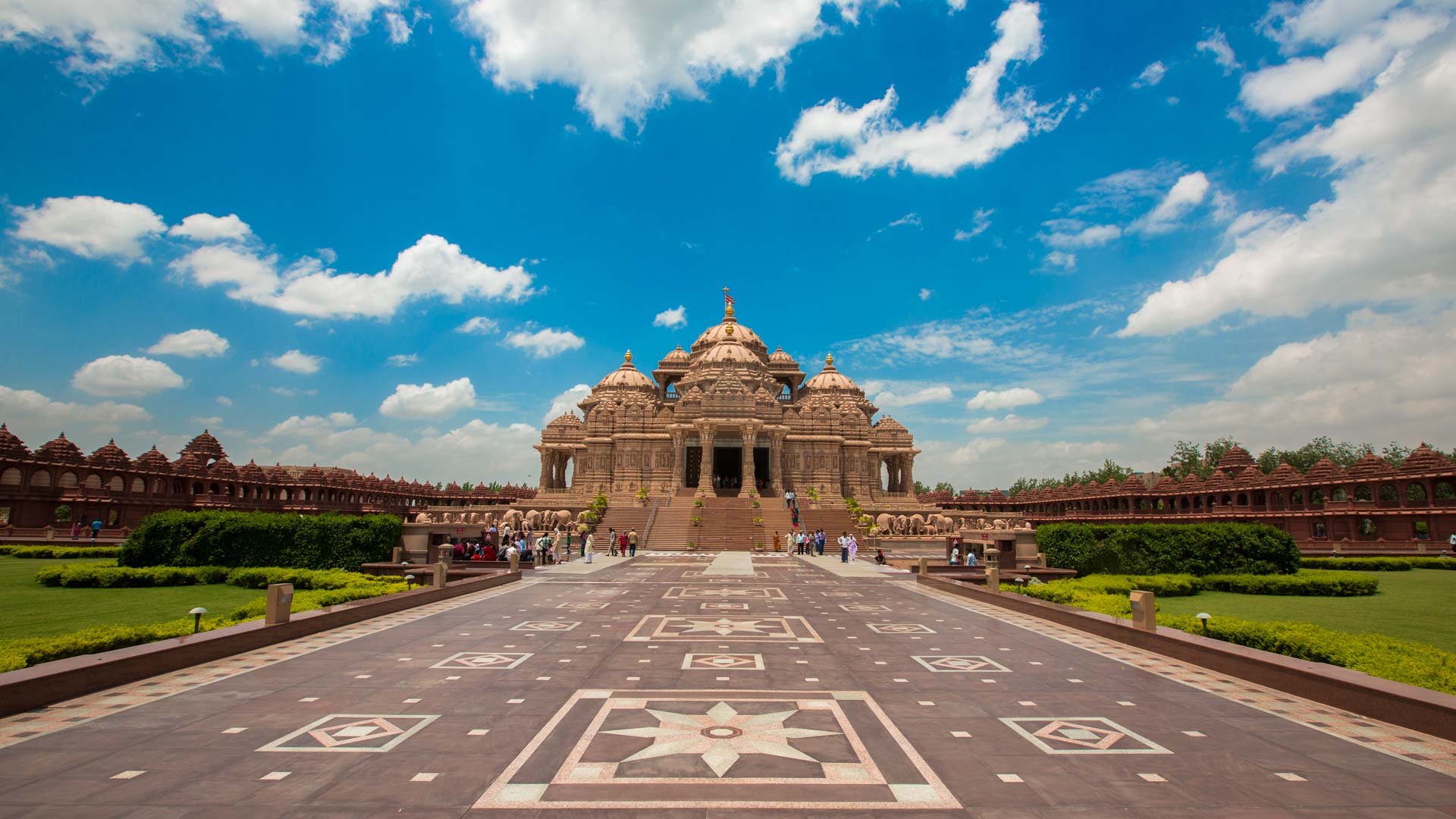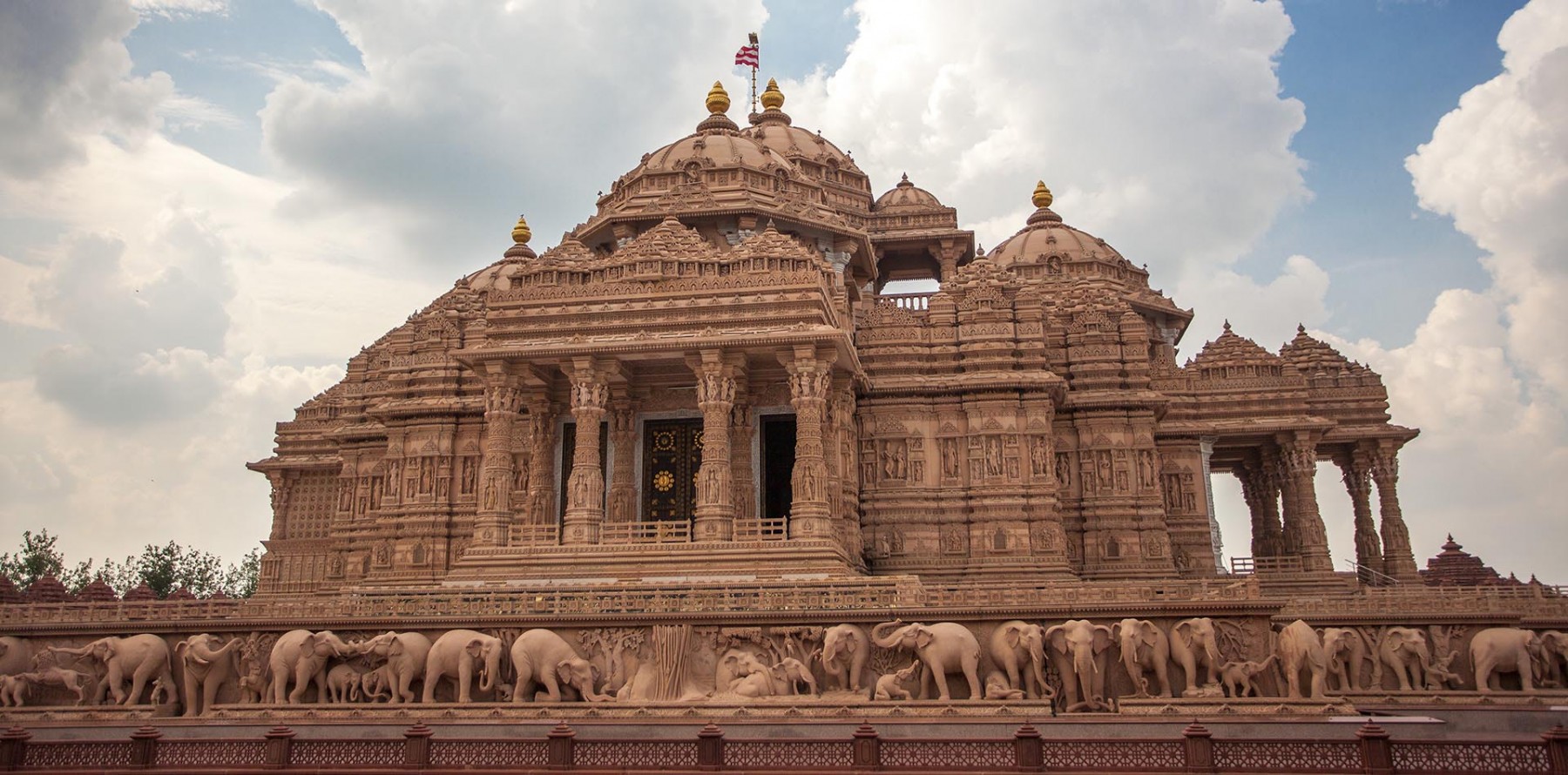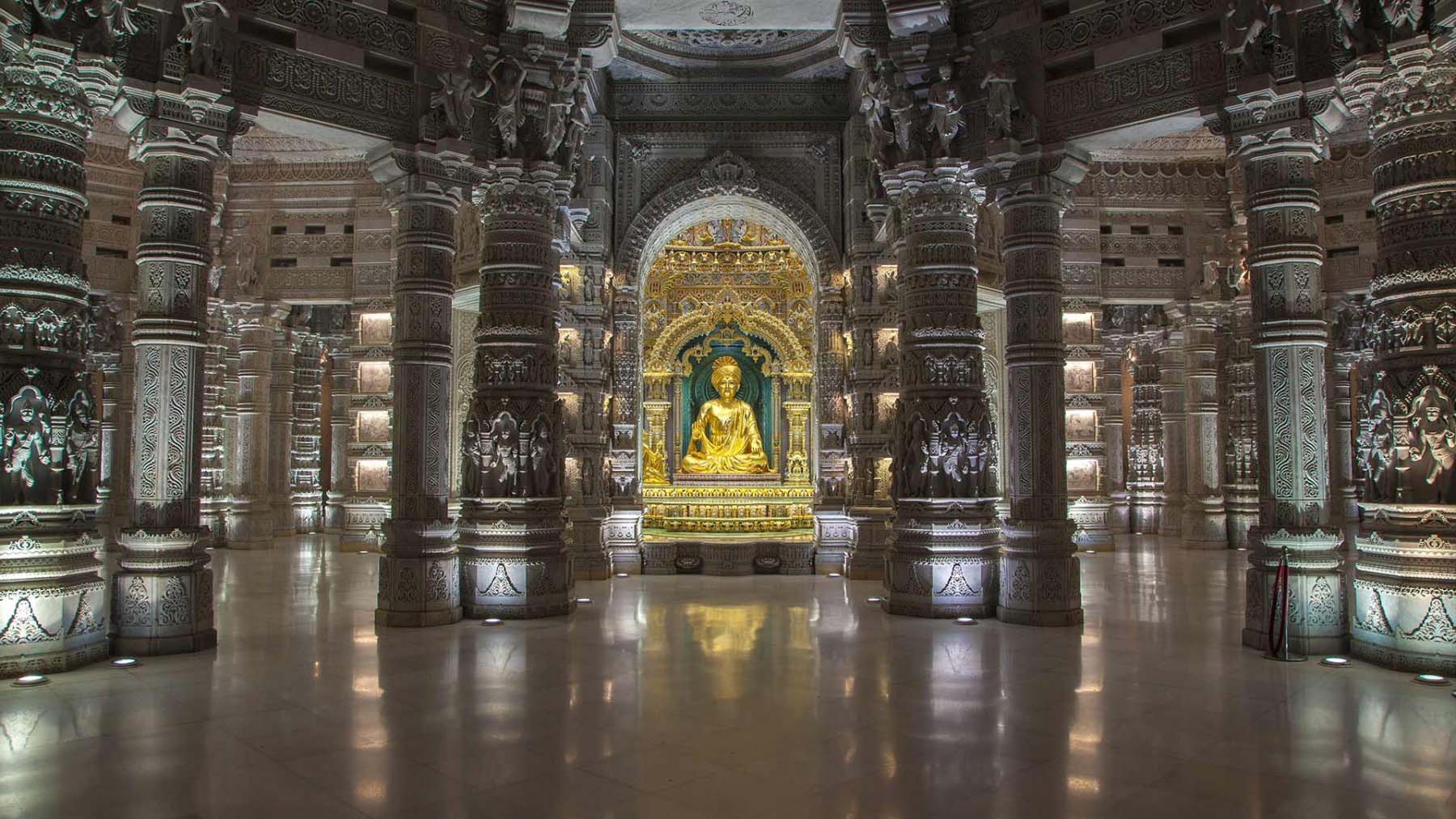 We then made our way over to Humayun's Tomb another old building with beautiful grounds for us to explore and discover. We had limited time we had left with our driver on account of how much time we spent at the Akshardham. We wandered around the old tomb and visited the mosque before heading back.
We spent the afternoon relaxing by the pool hanging out with monkeys before heading for a walk around Connaught Place and into the markets by our hotel for our last night in Delhi.
Friday
We woke up, packed our bags and grabbed breakfast before meeting up with Anuj's friend Nikunj en route to Hisar, Anuj's hometown. While driving through the countryside and through small villages/towns we were able to see quite a bit. The fresh fruit stands looked so delicious with their bright colours standing out from their surroundings.
When we arrived we dropped off our bags at the hotel, said hello to Anuj and Yana and their families before heading to the market to get Anuj some clothes for the wedding.
I had missed getting mehndi done with Yana and the girls the day before so while Yana's family looked around the market, I sat down and had this piece of art done.
After spending a little too much time in the market, we made our way back to Anuj's home for some dinner and to meet even more family members. It was such a treat and the food was incredible. After eating our fair share we made our way back to the hotel, calling it a night.
Saturday
Wedding day! Anuj picked us up for breakfast and we went for a walk with Nikunj, meeting this majestic cow along the way.
When we got back to the house some of the family traditions were starting with Anuj's mom's brother's family arriving to the house bringing with them gifts to be shared with Anuj's family. The women welcomed the family into the home and then the men and women moved into different rooms. Matthew told me that then, the men exchanged money and gifts, Anuj's family looked it over and asked for more (this is all pre-planned but put on a bit of a show for tradition sake). Then, in the women's room, all these new dresses were brought in from the men's side for Anuj's sisters. I didn't really understand what was happening but everyone was having a great time and the older women in the room started singing.
After this we went back to hotel to have lunch with Yana and her family before being wisked away to the beauty parlor. Anuj's family had picked out a beautiful saree for me and beacuse I wasn't fussy about what jewelery I had, they sent me to start getting my make-up down while they picked out my bangles.
I sat down in the chair at the salon and the conversation went a little like this:
– Have you ever been to an Indian beauty parlor before?
– No, this is my first time in India actually.
– Ok, so full Indian make-up for the wedding then?
– Sure, whatever you think is best!
– How do you want your hair?
– Umm… whatever you think is best!
– Ok!
And this was the result. The most makeup I've ever worn. Matthew hardly recognized me! Heck I hardly recognized myself!
Yana was beautiful. Her wedding dress was incredibly detailed with beautiful beadwork. It was quite a heavy masterpiece. She rocked it.
After the beauty parlor, I made my way back to Anuj's home to participate in some of the festivities before Anuj hopped on a horse to the hall… but not really. Because of the distance, and how many people needed to parade to the hall, we ditched the horse and got into cars and made our way there. Then, it was party time. Lots of dancing, food and chatting with different relatives. Both Matthew and I played different roles in the ceremony acting as members of Yana's family 🙂
The actual wedding ceremony didn't start until late in the evening, either just near or past midnight! It was such a fun night and a very special to be a part of their special day! As the festivities wrapped up, we shared our congratulations and thanks with everyone as we said our goodbyes as we had to leave for Delhi early in the morning.
Sunday
After a little nap, we woke up as the sun was getting ready to rise and said our final goodbyes and thank yous. We hopped into a cab with Nikunj back to Delhi to make our flight to London. We were all pretty awake and chatty during the drive, keeping our eyes looking out the window at the countryside.
We made a final pit-stop at McDonalds before stopping at the airport. I'm glad we made that stop! We happened to arrive at the airport 3.5hrs before our flight… but apparently at a busy time, meaning we needed every minute to get through check-in, security check, second security check and to the gate and no time to grab food. By this point our lack of sleep from the night before was catching up with us and we were both exhausted. As soon as I got set up in my seat on the plane, I feel asleep. The plane hadn't taken off and I was out… for a few hours. By the time we landed in London for our layover and got to our hotel it was nearing 11pm local time which was around 3am Delhi time. We were in our hotel dropping off our bags, getting ready to go out for not more than 2 minutes and I had fallen asleep again. I was absolutely spent but I had promised Matthew that we'd go for a night walk in London… I don't think I've ever felt that zombie-like but managed to walk for about an hour before having to officially call it a night while he kept exploring.
Monday
After factoring in sleep, we had about 4 hours in our 24hr layover pocket to explore and walk around. Matthew was incredibly, incredibly excited to see London, like a kid on Christmas morning. And I've got to say, it was nice to walk around a little more freely and awake! We wandered around as much as we could in the little time we had and both talked about how we really needed to book a trip back.
Given how much time we needed to get through all the lines at the Delhi airport, we made sure we got to the airport with ample time. Of course, this time, it only took us about 20 mins from arriving to get through everything, so we grabbed some snacks, looked at our pictures and day-dreamed about our next adventure as we waited.
What a trip.